Joe Slomp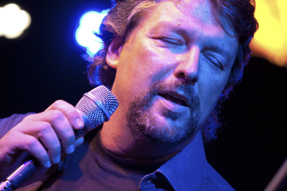 Artista maturato nella scena dei club jazz di Roma, Joe Slomp – che ha vissuto tra Italia, Parigi, Cambridge e Copenhagen – abbraccia da interprete tutta la musica, dalla A alla Z, come si percepisce chiaramente dalla sua produzione, e come si deduce dal suo curriculum di cantante solista e dalle partecipazioni come backup vocalist, chitarrista e tastierista in numerose band e accanto ad artisti solisti (Mimmo Locasciulli, Alta Tensione, Capital Soul). Prima di produrre i suoi album, ha registrato brani jazz con il maestro di piano jazz Nino De Rose, ha cantato in TV con Sarah Jane Morris, e ha contribuito nel 1995 con Tenth avenue freeze-out al For You, cd-tributo italiano a Bruce Springsteen. Passando dal jazz al soul al rock all'R&B, e adattando la sua voce alle capacità espressive richieste dalle canzoni che propone, Joe aggiunge la sua preziosa miscela e il suo amore sincero per queste canzoni al panorama musicale del nostro tempo.
Dei suoi due lavori discografici, Introducing è quello che, forte di cover di Joni Mitchell, David Crosby e Doobie Brothers è più vicino alla sua passione per la canzone d'autore e per il suono complesso di alcune band degli anni Settanta. Ma tra le sue pieghe mostra anche l'altro lato di questo cantante ispirato e sincero: quello del soul. Ecco allora cover di Curtis Mayfield e Bobby Womack. In mezzo, a fare da ponte naturale tra le due sponde del suono e della cultura americani, c'è anche qui Bruce Springsteen, che Slomp rilegge nuovamente attraverso una versione alla Steely Dan di "Living Proof" (da Lucky Town) e una più acustica di "All The Way Home".
New Move (2009), il disco più recente, è frutto di un flashback, passo all'indietro verso il jazz che fu primo amore, e che qui seve a Slomp per mescolare standard luminosissimi ("It's Cold Outside", "My One and Only Love") a impensabili riadattamenti dal repertorio di Bruce Hornsby ("The Way it Is"), dei Coldplay ("Yellow)" e dei Red Hot Chilli Peppers ("Scar Tissue").
La produzione più recente (2010) di questo artista romano torna ad incrociare la via di Bruce Springsteen nel tributo For You 2, a cui Slomp contribuisce con "Jesus Was An Only Son" e con "The Train Song", quest'ultimo un inedito del Boss realizzato per l'occasione come membro del trio SRL (insieme ad Andrea Luciani e Massimo Rossetti, e con la partecipazione di Luisa Capuani).
DISCOGRAFIA
Introducing (2000)
New Move (2009)
MEDIAKIT
WEB
VIDEO